Logan/Breckinridge Street Storage Basin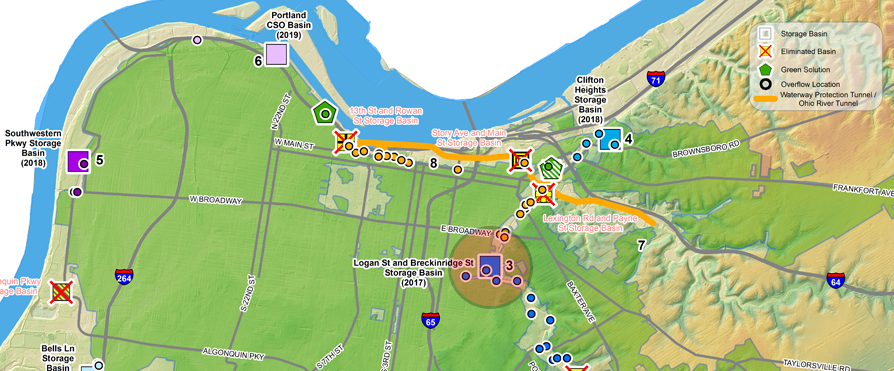 Home Public Input Logan/Breckinridge Street Storage Basin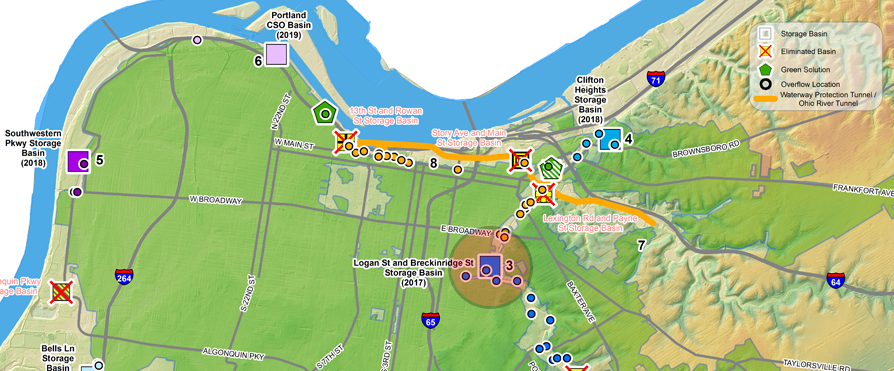 Basins are a key part of achieving safe, clean waterways
Rainwater can enter the sewer system during rain events and cause a mixture of sewage and rainwater to flow untreated into our waterways. Proposed and existing storage basins—throughout our city—are designed to retain the mixture of rainwater and sewage until the rain subsides, and then gradually release it back into the sewer system for treatment.
Logan/Breckinridge Street Storage Basin
Operational since December 20, 2017, the Logan Street Combined Sewer Overflow (CSO) Basin at 935 Logan Street will capture 11 combined sewer overflow points that discharge 15,400,000 gallons of a mixture of sewage and rainwater in a typical rainfall year into the South Fork of Beargrass Creek. The basin will allow capture of 98 percent of these overflows for a typical year of rainfall, resulting in a safer, cleaner area and South Fork Beargrass Creek.
The basin is a concrete underground structure with a storage capacity of 16.7 million gallons. It has an above ground operations building and an access ramp to allow service vehicles to enter for periodic maintenance. There are 10,000 feet of 24- to 96-inch sewer pipes that collect flow from 11 overflow points and convey it to the basin. The sewer water is stored in the basin until capacity is available in the sewer system. At that time, the water is conveyed to Morris Forman Water Quality Treatment Center, treated and released into the Ohio River.
MSD will transfer the site to the Louisville Metro Housing Authority to better accommodate public use and maintenance of the site. The Housing Authority will partner with the local community to develop and implement a plan for public use of the property. MSD will retain an easement to allow maintenance of the basin.
---
June 9, 2015 Pardon Our Dust Meeting
MSD held a Pardon Our Dust meeting on Tuesday June 9th, 2015, at Urban Government Center regarding the construction schedule of the Logan/Breckinridge Street Storage Basin. MSD staff were present and spoke with neighbors about the construction schedule and construction activities for the basin.
---
Past Meeting Materials
Visit our library and select the IOAP folderto download past meeting information and materials.
Contact MSD
Contact Us